Ilala Lodge Victoria Falls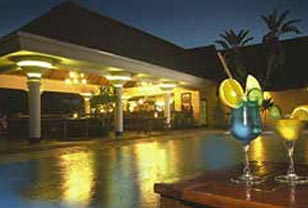 Ilala Lodge in Victoria Falls offers distinguished yet affordable accommodation in a gracious and secluded ambiance. The decor evokes a bygone era of adventure and the quest of discovery in Africa.
The hotel is ideally situated and is the closest to the Victoria Falls as well as the town centre. The National Park borders the front of property and wild animals often graze on the hotel lawns with the spray of the falls in the background.
A small privately owned Lodge of just 32 Rooms, Ilala Lodge is the closest to the Victoria Falls, and most rooms have views looking over the Victoria Falls National Park.
Rooms are spacious, equipped with satellite television, air conditioning, coffee and tea-making equipment, and have en-suite bathrooms with both baths and showers.
Ilala Lodge has created a 'special atmosphere' of highly personalised and efficient service only found in small private hotels, but combined with the facilities of a major Hotel.
The magnificent swimming pool has a large wooden sun-deck overlooking the National Park, and is a welcome oasis from the bustling town of Victoria Falls.
There are two restaurants from which to chose, the elegant 'colonial' terrace restaurant offering a full a la carte menu of local and International dishes, and the open air Kubika restaurant providing such delecasies as venison, ostrich and crocodile tails!
Email us for a quotation, or check availability for your dates.
Zimbabwe Side
Zambian Side